What Is Invisalign?
Invisalign is a set of custom clear aligners that can straighten your teeth. Invisalign trays are transparent and removable, making it easy to discreet about your teeth alignment journey!
How does Invisalign work?
At Genuine Dental Arts, we use advanced technology to capture 3D images of your teeth to create a customized treatment plan for you.
After we create your treatment plan, you'll receive your first set of trays. You'll get a new set of clear aligners every so often depending on your treatment plan. Each tray is designed to fit your teeth even while they're shifting!
As an Invisalign patient, you need to wear your clear aligners for 20-22 hours a day, only removing them to brush your teeth, floss, and eat.
What can Invisalign treat?
At Genuine Dental Arts, we can address your concerns with Invisalign regarding the following:
Crowded teeth
Crooked teeth
Overbite
Open Bite
Underbite
Crossbite
Gaps
Invisalign may not be suitable for more complicated cases. Schedule a consultation with the Genuine Dental Arts team so we can determine if Invisalign is right
Invisalign vs. Regular Braces
Regular braces aren't the most attractive looking, but they may also require frequent emergency visits if brackets become broken and poking wires are causing discomfort. You'll also probably have to sacrifice eating some of your favorite snacks. Unfortunately, braces make it easy for food to get stuck in your teeth which can make it difficult to floss and will cause plaque buildup.
Invisalign, on the other hand, makes it easy to eat all your favorite munchies since you'll only remove the clear aligners to eat and brush your teeth. Plus, you won't have to work around metal wires to floss. Not only that, they're clear and thin, making them almost invisible to others so you never feel self-conscious about your smile!
Why Choose Us?
Did you know that straightening your teeth doesn't have to be for cosmetic reasons? Having straight teeth helps you maintain good oral health. Straighter teeth are easier to clean which means your teeth won't have to suffer from dental plaque, decay, or gum disease.
Here at Genuine Dental Arts, we care about every patient's confidence and overall oral health. That's why we offer Invisalign at our dental clinic in Costa Mesa, CA to our patients interested in straightening their teeth and achieving a healthier, beautiful smile.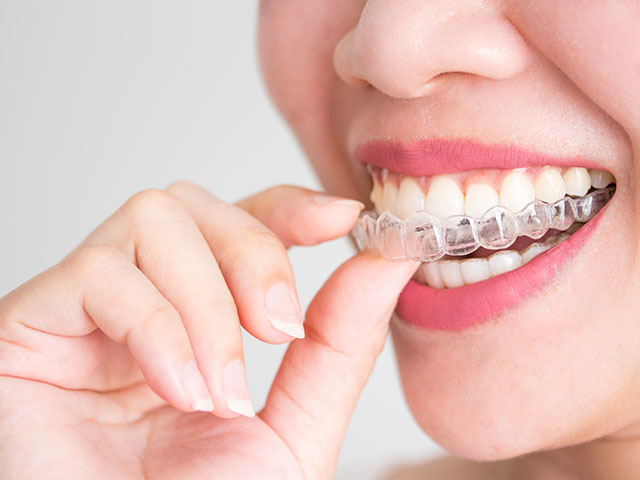 Affordable Payment Plans for Invisalign
We know that any dental cost may be of concern to you here at Genuine Dental Arts. The cost of treatment for Invisalign varies from patient to patient. At Genuine Dental Arts, we offer payment plans that can help you pay for the overall cost because we care about your overall health. Read our Payment Plans page to learn more.
Schedule a consultation with us at our dental office in Costa Mesa to find out if you're a good candidate for Invisalign. Call us today at (949) 548-8218.